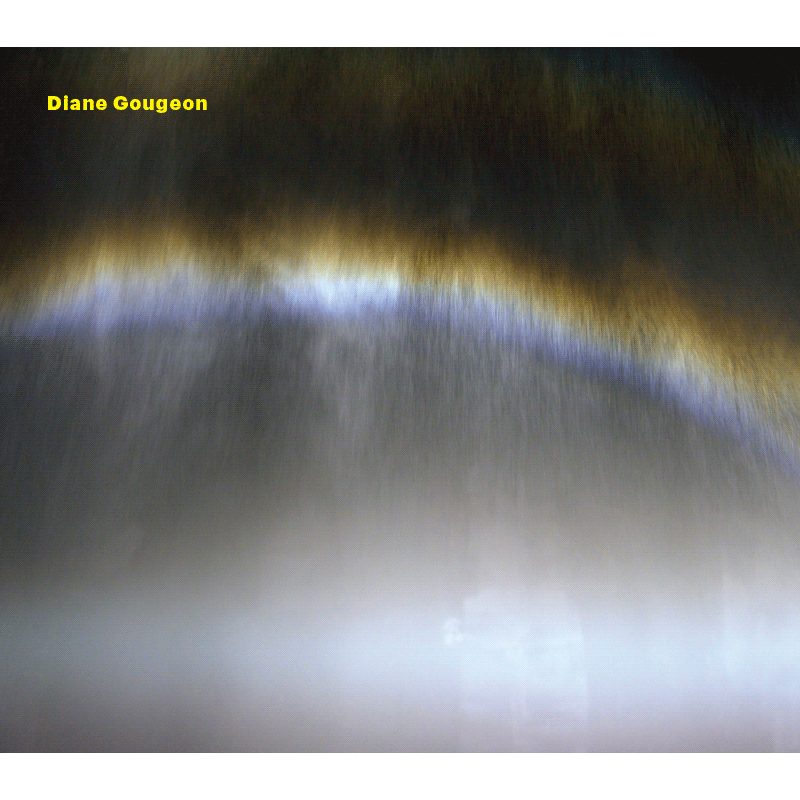  
Diane Gougeon

In a first text entitled "Chasing Rainbows: Illusory Perception, Enchantment, and Disenchantment in the work of Diane Gougeon", Reilley Bishop-Stall deals specifically with the exhibition Désenchantement / diane's rainbow, and with the meaning, nature and scope of the work. This multidisciplinary environmental installation by Diane Gougeon was presented at Plein sud in 2013, on the theme of the rainbow, an atmospheric phenomenon that is both symbolic and fascinating. Using various technologies, the artist recreated in the exhibition room the conditions of existence of a complete circular rainbow. Thus, the installation made it possible to immerse itself completely in the work, crossing for example a basin of water on a path of stepping stones.
As a second text, entitled "Rooted in Nature: Diane Gougeon's Mediated Forecasts", Marie Perrault has instead inscribed the exhibition as a continuation of the artist's work since the early 2000s. This rich and diverse publication is complemented with a few personal anecdotes related to the presentation of exhibitions, as well as close-up shots of the works and numerous details, which are important elements in the artist's production and testify to his sensitivity.
THE AUTHORS
Reilley Bishop-Stall is a PhD student in the Department of Art History and Communication Studies at McGill University. Marie Perrault, critic and curator, has been project manager for more than twelve years at the Service d'intégration des arts à l'architecture du ministère de la Culture et des Communications du Québec.
The graphic design was produced by Mille Mille.
Data sheet
Author(s)

Reilley Bishop-Stall et Marie Perrault

Year of publication

2014

DImensions (cm)

19 x 21,5 x 0,6

Artistic discipline

Installation

Language

Texts in French and English

Number of pages

66

Number of illustrations

31

Binding and other features

Sewn binding

ISBN

978-2-922256-63-5

Printing

Color printing

Weight (k)

0,23